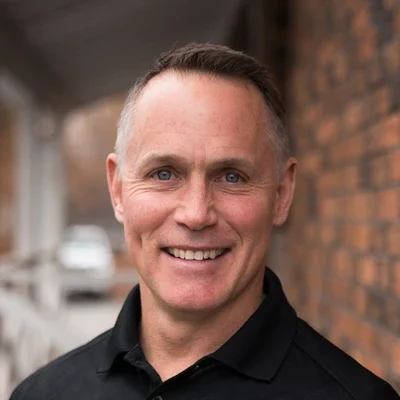 Chiropractor
Dr. Kevin Snelgrove D.C.
Hi there, I'm Kevin, the owner of Snelgrove Chiropractic.  I'm a chiropractor (graduate of Canadian Memorial Chiropractic College in Toronto), business owner, husband to Janey and father of 2 amazing teenagers (ok - really it's 3, we have a dog named Ginger!). 
I've been a chiropractor now for almost 20 years - it's crazy to think that time has passed that fast.  In those years I have had the honour of taking care of thousands of people from all walks of life. On any given day we see individuals and families, from new borns to grandparents and everyone in between. I love seeing the changes in the way that patients feel and function in their everyday lives. It is amazing to see how hope has been restored in people as their health returns in a completely natural and non-invasive way. What gets me excited is hearing how an office worker can go through the day without back pain, how a mechanic no longer experiences migraine headaches, how a child is able to breathe and sleep better and how a senior is able to stand stronger and with better posture.
I believe that health is something that we shouldn't take for granted. Being healthy requires effort and consistency - no matter what age a person is.
At Snelgrove Chiropractic, we look forward to serving you and your family on your health journey.
Chiropractic Assistant
TINYA SAVOY
Tinya joins us after having spent over 30 years in the health and fitness industry as a Fitness Specialist and Nutrition and Lifestyle Coach and Trainer. She is a Mom to two adult "boys", Step Mom to two bonus kiddos and she loves spending time with them and her husband Dan. 
She's an avid reader, and writer and can most often be found at her happy place, "at the water".
Tinya was passionate from a very young age to help keep herself and others "smiling and moving". She has dedicated her life to studying, coaching and guiding others in understanding and connecting to their own bodies. Her time performing fitness assessments, designing exercise and wellness programs, supervising rehabilitation and coaching one on one and groups in many different fitness modalities has given her much knowledge and insight that is a great asset in her role with us here at Snelgrove Chiropractic.
With her clients experiences and her own journey through spinal injury/degeneration and recovery she understands firsthand the power that chiropractic offers and enjoys the personal benefit with increased mobility and improved overall well being. Tinya believes that our bodies are all unique and amazing, our mindsets are also a very important factor in our healing and that it's never too late to transform our health. She loves witnessing the results patients experience daily as a result of their commitment to their health by being a patient with us at Snelgrove Chiropractic.
OFFICE HOURS
---
Monday
Closed
---
Tuesday
7:45am - 10:45am
2:30pm - 5:45pm
---
Wednesday
7:45am - 10:45am
---
Thursday
7:45am - 10:45am
2:30pm - 5:45pm
---
Friday
Closed
---
Saturday & Sunday
Closed